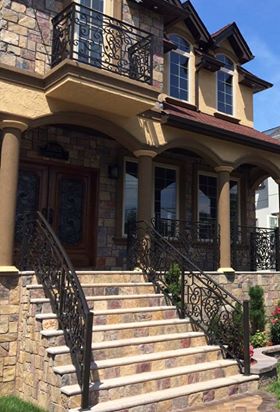 PLAINFIELD N.J.–-Segundo Flores, the President and owner of F&C Professional Aluminum Railings Corp., in the early '80s, followed his dream of bringing new machines and technology to a business he knew well, he mentioned in an exclusive interview with NJ News Jersey reporters.
By 1983, he started working in the same type of business, though he did not own it, Segundo said of his early days in the US, after leaving his native country, Ecuador, where his father taught him the business. He credits his dad, who had his own shop in Ecuador, for teaching he and his brother get started in the US in 2002, first using his garage as a home base. 
As the growth of building in the area took off, Flores recalled feeling happy to find some initial customers who liked his craftsmanship.
"I said: god thank you," recalled Flores. Segundo mentions " We service New Jersey and New York! Middlesex County. Essex County, Monmouth County, and Staten Island.
Customers saw his honesty as he grew the business – acquiring more and more work. And, he now has 30 plus employees, he said. My sons sell better than me and they are an integral part of the business.
Asked to name two things he is known for, Flores said: Being able to "do any design the customer likes," and teaching his family to do better than himself throughout life.
"Customers could come in with photos of [railings at] their home in Portugal," for the company to duplicate, said Flores, and it's not a problem.
"Some of my first accounts on the commercial side were from Toll Brothers, Avalon, and Hovnanian Enterprises," added Flores.  
"We build it here at our production facility at 1149 West Front St. in Plainfield, New Jersey and make it fit when we install it," said F&C project manager, John Gaster, adding that the firm never uses rivets or fasteners such as screws to assemble its frames.
Moreover, Gaster explained that 90 percent of the time, posts are cemented in, while the company's welded construction for self-latching gates, for instance, stand up to virtually anything with respect to durability.
While most people stick with aluminum frames, many other types are available, noted Gaster. 
One favorite system is F&C's stainless steel, see thru railing, with tempered safety glass – which F&C Professional Aluminum Railings Corp. can install as a replacement for your original stairway railing.
It is not necessary to make a trip to F&C's showroom in Plainfield although, your always welcome! The company's trucks are equipped with color samples, various types of paint coatings, profile samples, cover plates, and many accessories/parts you can see, such as the 3.5-inch ball caps that are used to set off posts, among other parts. The sales person will come directly to your home for convenience.
Entrance gate and fencing is not a problem for F&C! We can do a gate as high as 15 feet and the fence would surround the perimeter. Famous Actor Steven Segall was one of our clients. Our sons Fitzgerald and Carlos are working in the business and recently launched a business in supplies all while going to College.
Call us today at... 908-753-8886
 Reported Story by David-Douglas
Edited by NJ NEWS JERSEY