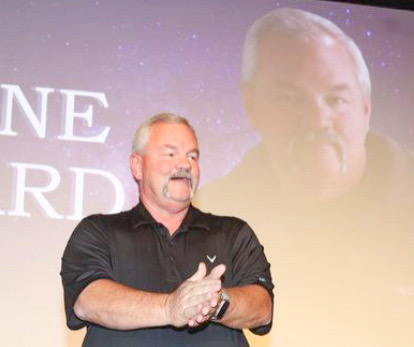 Evanston, WY—Dwayne Willard owner of Champion Services left behind Louisiana oil rigs for the big skies of Wyoming. Dwayne is proud to call Wyoming his home. Dwayne's roughneck life was traded to start a successful company with a number one priority in keeping his customers safe and comfortable! Champion Services, a family-owned business, is more than just an HVAC company. With two locations in Evanston, Wyoming and Ogden, Utah, Champion Services offers a complete line of electrical, plumbing, water treatment, and drain cleaning services as well. Owner and operator, Dwayne Willard and his staff, is ready to serve all your residential needs.
Willard's personal story begins at an early age while helping at his father's electrical business in Louisiana when he was 10 years old. In time, his dad took a position at Chevron Oil Company and was transferred to Wyoming while Willard, upon graduating high school, started working on an offshore oil rig in Louisiana. With much dedication, Willard worked his way up to being a derrickman and then was trained as a driller. "It was hard, challenging and dangerous work," Willard mentioned in our exclusive interview with NYnewsyork.com, "but it taught me the importance of commitment to a job well-done." With time off from the oil rig, Willard drove to Wyoming to visit his father. He immediately fell in love with this spectacular part of the country while hiking and camping in the area. Not long after, he packed up his things and moved to Wyoming for good.
Despite never really expecting to go into the electrical business, Willard decided this would be the best direction to take to build his new life out west. After a four-year apprenticeship, Willard passed his journeyman test. He continued his studies to acquire his Master Electrical License for Wyoming, Utah, Idaho and Colorado. He has since earned his general contractor's license and HVAC Masters as well as a Plumber Masters license as well. 
In 1999, Willard began working at his father-in-law's plumbing business, Champion Services, a company founded in 1982. In 2009, Willard purchased the business from his father-in-law and has since expanded the services to include HVAC and electrical.
Champion Services, is currently serving the southwest areas of Wyoming, including Evanston, Kemmerer, Mountain View and Lyman as well as the Wasatch Front of Utah, encompassing Ogden, Logan and Salt Lake City areas. The company handles all electrical, plumbing, heating, cooling, water systems, and more.
Champion Services is 100% residential, concentrating on its mantra "One Call to Fix it All." Champion Services provides…the vital things that make you comfortable!
Champion Services also has satellite offices and shops in Mountain View and Kemmerer.
You can find out more about the business Champion Services on their comprehensive website: