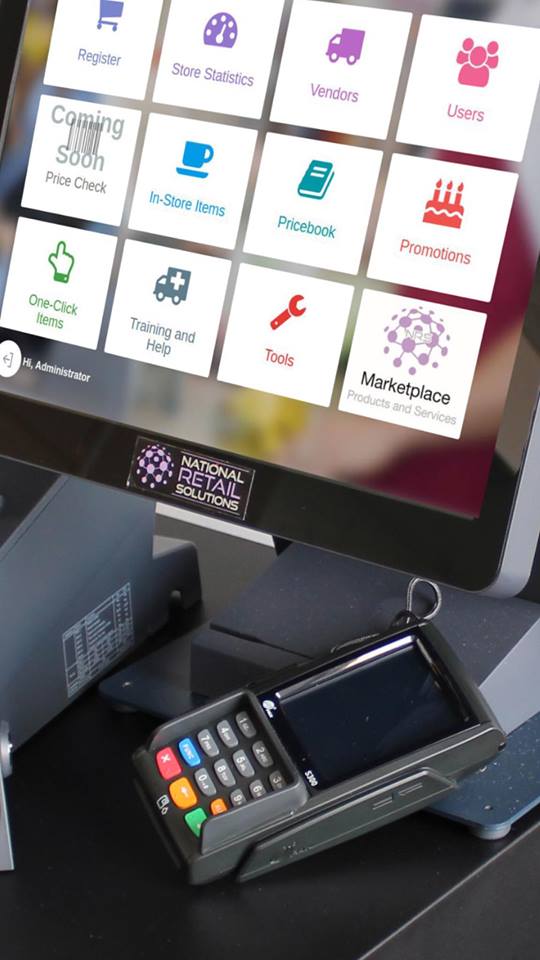 NEWARK--After last week's Twitter explosion over start-up 'Bodega' seeking to disrupt and replace the corner store, we wanted to find a start-up doing the opposite, and we were not disappointed. National Retail Solutions, a startup out of New Jersey, has been working to bring low cost state-of-the-art technology to bodegas and other independently run mini markets and convenience stores.
When the internet went a flurry over the ironic use of the word 'Bodega' to describe a company that is set out to destroy bodegas, we were shocked at how callous the hi-tech industry could be. In many immigrant communities across the United States, the bodega is the affectionate term for a convenience or mini-mart.
The timing of this viral story comes on the heels of what continues to be a tumultuous hurricane season for us. As we pick up the rubble from Hurricane Irma, we know that small business owners will be the parts of our community that could be most affected. Florida, Texas, and parts of Georgia will likely be recovering from Irma and Harvey for decades, and small business owners often don't have the resources or access to capital to rebuild after a huge blow to their inventory and sales.
Americans have always shown that they come to the rescue of their neighbors in times of crisis and this start up is no exception. Not only are they focusing on building up the bodega's ability to compete with retail chains and big box stores, they are now offering those affected by the hurricanes an incredibly low price to get the unit itself.
National Retail Solutions was born out of the idea that anybody, given the right tools, can succeed. And President of NRS, Elie Y. Katz, believes that their point-of-sale (POS for short) system provides the tools for a bodega owner to succeed.
Vice President of NRS, Eli Korn explains that NRS isn't just offering a POS system, they are "offering an entire program for [the stores] to grow."
Their "system of growth" is centered around their POS unit. The POS boasts a touchscreen merchant facing monitor where the store owner can access their inventory, staff permissions and hours, store statistics, sales records, and for the first time ever, can offer digital merchant coupons in-store.
Katz explains that historically, many mom-and-pop stores operate at a competitive disadvantage in part because they can't honor manufacturers' coupons for popular consumer package goods (CPGs). The administrative costs of coupon collection, processing and redemption can be prohibitive for these retailers.
"Our goal is to help the little guys compete with big guys in the market" says Vice President of NRS Eli Korn. "We offer a coupon loyalty program called The BR Club and it operates like many other loyalty programs, club members receive coupon offerings that they can redeem at stores with our POS unit. We make it possible for the store owner to provide these coupons by issuing credit to the stores within 24 hours of the coupon's redemption" 
Since starting to sell their unit in June of 2016, they have sold over 3,500 units.
It is their customer-centered culture that propelled them to offer an incredible discount to those affected by the hurricanes. "It is hard enough being a small business owner" says Katz, "but now they have been hit with a hurricane and will have to rebuild their businesses and their homes…we don't want to see them have to close their doors."
NRS will be offering their discounted units until the end of October. The cost of the unit is typically 1,299 and includes installation and training. Their package includes a cash drawer, the POS terminal, a scanner, and a printer, with an optional scale. They also offer credit card processing services and even cash advance to stores who just need a bit of a push to get started. Once an NRS store, the stores receive monthly marketing materials to help promote their merchant coupons, insurance on their hardware, and round the clock customer support.
For those who are in areas that FEMA declared as "major disaster areas," the system will cost $600, and include the same bundle and benefits.
So, while there is a start-up called 'Bodega' out to destroy the bodegas, and hurricanes that flood our streets, there is also a company that sees the store owner as a partner, who views their success as their own, and wants to help rebuild after the storm.
If you want to find out more about this company or to take advantage of their offer go to www.nrsplus.com/hurricane
or call 1-800-215-0931